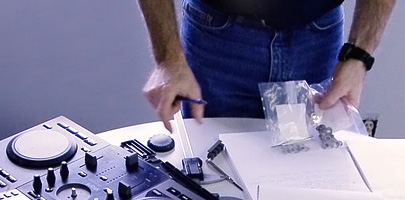 WHO WE ARE
Codetta Product Design Inc was founded in 2001 in Victoria British Columbia Canada. Our Industrial Design firm provides services to a diverse range of clients spanning the globe; from Victoria to Denmark, New York to Seattle. We are a team of creative and technical minded designers with a collaborative and innovative design style. We pride ourselves in meeting deadlines but exceeding expectations!

Founder of Codetta Product Design: Damon Langlois

• Graduated with honours from Carleton University with an Industrial Design degree in 1992

• Fully accredited professional member of the British Columbia Industrial Designers association, and the Association of Canadian Industrial Designers

• Seventeen years experience practicing Industrial Design including nine years running Codetta Product Design

• Experience developing mass produced products from concept development through mechanical design with over 60 products realized to production

• Designed award winning products including a 2011 Spark Pro Silver Award, a "Best Products of 2002" by Business Week and USA today and a Red Dot Design honorable mention

• Experience with a diverse range of markets from consumer electronics, to public utility fixtures to medical equipment

• Listed as an inventor in seven utility patents

• Damon is a practicing and trained artist so he has a talent for form and aesthetics. He is the 2011 solo sand sculpting world champion.







AWARDS
Spark Silver Award for Industrial Design in 2011, Red Dot Design honorable mention, best-products-2002, GDC award 1995


CLIENT LIST
Stanton Group, KRK, TC-Helicon, TC-Electronic, IVL audio, BKE, Carmanah, Vigil Health solutions, Street Light Intelligence, Presonus, Talk Technologies, Starfish medical, Resonant light technology, Contech Enterprises Inc, Reliable Controls mh acoustics, Eventide, Electro Harmonix



"Collaboration with Damon is delightful. He can listen effectively and return with a design that captures, effectively and efficiently, exactly what you were hoping for: a look that sparkles with creativity, and a functionality that exudes ease of use. Damon is both an artist and a pragmatist."
-David Green, Ph.D. Chairman, Carmanah Technologies Corporation


"From back-of-the-napkin ideas, to polishing the appearance of a finished design, Damon's leadership of Codetta Product Design fosters an attention to design detail that invigorates everyone on a project."
- Kevin Alexander CEO, TC-Helicon


"Damon has leveraged every idea I've given him into something better."
-Erik Djukastein Co-founder of Contech



Contact us to discuss how Codetta can fulfill your design needs:

Codetta Product Design
200-733 Johnson Street
Victoria, BC Canada

tel 1-250-382-5045